Pleased to have found a seemingly official website that represents the  dolls & photography of Katan Amano and Ryo Yoshida.   DOLL SPACE PYGMALION is added to the perma links at left/bottom.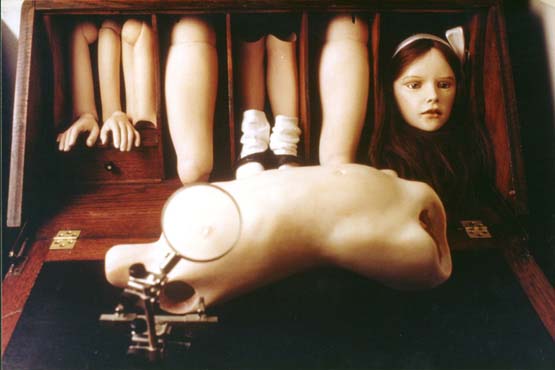 Interestingly enough there's a strange little youtube video of the Katan Doll photographs filmed and moving.
It does not do justice to the deep itch felt in the gut when first viewing her work in the books.  There's much ball joint doll photo work floating about that seems to miss the immersive and somewhat distressing nature of the Amano and Yoshida work, which seem the originals in the genre and most adept and pulling it all together to both attract and repel.
Here's the Katan Amano:
httpv://www.youtube.com/watch?v=XA_47OT4gMA
And here's another, collected work from Katan and Ryo as well as others, such as Shimon Yotsuya (another creator I find compelling).
httpv://www.youtube.com/watch?v=7zKeWbq2Jns
If you go directly to the  you tube device, then read & click the list of related videos at your own psychological jeopardy…  or tantalization…  whichever tiny little doll shoe fits.
Listen to Shizuka.
Consider Hans Bellmer.
We welcome you to 2009.